Uniform
Holy Apostles' Primary School Uniform
Holy Apostles' School Uniform shares many common features with other Primary Schools.
Below is our Uniform and where to purchase it.
Click on the Jumper to order your uniform, bags and hats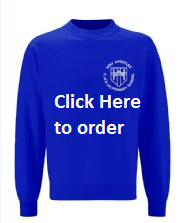 The PTA have a range of pre-loved school uniform that can be purchased for £1 per item. Please find the up-to-date list here to order or ask a question please email pta@holyapostles.gloucs.sch.uk.